Published by Yummy.ph
By Bea Faicol, Lifestyle Editor
We all know Christmas just doesn't feel like Christmas without bibingka and puto bumbong. But where can we score the best ones? Yummy.ph wrote a listicle for 2021 on where to order Bibingka (rice cake) and Puto Bumbong (tubed purple rice cake). Luckily, one of those listicles happens to be our very own The Lobby Lounge and Cafe Ilang-Ilang's Bibingka Special and Puto Bumbong.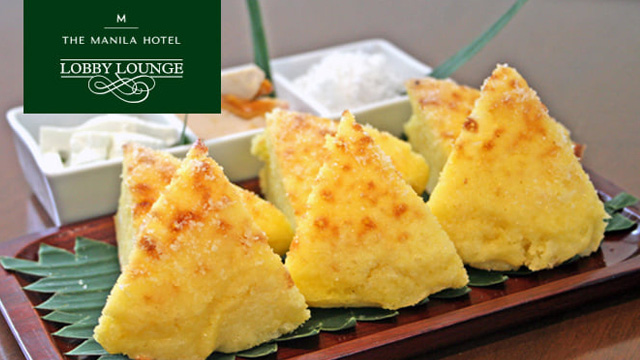 Café Ilang-Ilang and Café Lounge, Manila Hotel
PRICE: Starts at P250.
A favorite among Manila Hotel's regulars is the hotel's Classic Bibingka found at Café Ilang-Ilang or Café Lounge. Not sure which Manila Hotel café to go to? Weigh your options:
Go for Café Ilang-Ilang if you'd prefer it buffet-style and if you're willing to splurge and dine in. Don't worry, it's not just unlimited bibingka, you also get to try their home-baked bread, fresh pasta, hand-rolled sushi, charcuterie, dim sum, ice cream, salads, Halal food options, and of course, Filipino dishes.
Go for Café Lounge if you solely want to try the Classic Bibingka. If you have a few hundred bucks to spare, this bibingka is best paired with the café's coffee or hot chocolate. It's the ultimate bibingka pairing!
HOW TO ORDER: Café Ilang-Ilang is for dine-in customers only, you can check their website for rates, schedules, and reservations. As for Café Lounge, you can also opt to dine in or have it delivered via Pick.A.Roo (look for The Manila Hotel).